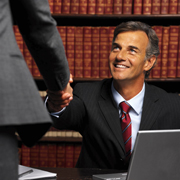 Jim Lubawski will personally conduct the search from start to finish; your search will not be delegated to a junior partner.


We will never present a given candidate to two clients at the same time.


We guarantee our work: if the hired candidate leaves your organization within the first year of employment we will conduct a replacement search at no cost, excluding expenses.


We will never approach any candidate we place to leave that organization.


918 Osage Lane
Wilmette, Illinois 60091
Phone: 847 441 7300
©2007 Lubawski and Associates